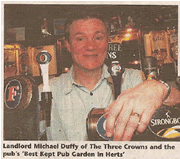 Review in Watford Observer – 21st May 2010
Jewel in the Crowns. Click here to download pdf.
What happens ?
Master of Ceremonies Colin Turnbull started with `The Selkirk Grace` and told of Burns life, poetry and loves,
The haggis was piped in by Nigel Young and presented by chef Kris Prowse before Les Robb performed the address to the haggis.
Landlord Michael Duffy told of Burns skill as a song writer before revealing the lyrics that Bob Dylan claimed had the greatest impact on his life in the song `My love is like a red red rose`
Guests were encouraged to join in with several reciting poetry and Judith Rackley responding on behalf of the ladies to `The toast to the lassies`
Les Robb concluded with `The immortal memory` before piper Nigel Young brought the evening to a close with another of Burns songs `Auld Lang Syne`