Welcome to The Three Crowns, Bushey Heath
The Three Crowns in Bushey Heath, Hertfordshire is a traditional pub situated right in the heart of the village centre. With an emphasis on food, The Three Crowns has a very comfortable, welcoming atmosphere.
The Three Crowns pub serves modern British food and cask ales, where everyone from locals to city folk feel right at home. In a unique position, the pub feels secluded and peaceful, yet it is only minutes from the London suburbs and the M25.
There is ample car parking plus a public car park  one minute walk away.
There is a large log fire for those cold, dark Winter months and you can enjoy Spring and Summer in our secluded garden full of flowers which overlooks the village church.
Whether you're after a quick snack on a weekday lunch or a traditional pub meal with family and friends, there is some serious eating to be done here. Wonderfully fresh, seasonal produce and unusual twists on old favourites. The special's board changes daily.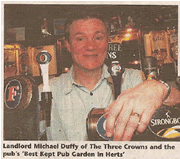 Review in Watford Observer – 21st May 2010
Jewel in the Crowns. Click here to download pdf.
Michael Duffy who previously worked at Celtic Manor in South Wales, London's Royal Lancaster & May Fair and St Andrews Old Course Hotel owns the Three Crowns and looks forward to welcoming you soon.
Beer, Stout, Lager, Cider & Ales
Our customers enjoy approximately 55,000 pints a year!
Our Draught Lagers on offer are Fosters, Kronenbourg, Stella Artois and Coors Lite  On draught we also offer John Smiths Smooth, Guinness & Guinness Extra Cold and Strongbow Cider.
Our choice of cask ales is determined by customer feedback and recommendation with 2-3 different guest ales every week. Currently on offer is Doom Bar from Sharp's brewery from Rock in Cornwall , London Pride  and Wadworth 6X from Devizes in Wiltshire
We welcome Campaign for Real Ale members and all others who appreciate the pleasure of well kept real ale. Visit the CAMRA website.
Bottled beers currently on offer are Budweiser, Corona, Becks Courage Light Ale & Becks Blue ( non alcoholic )
Bottled ciders include Bulmers Original & Bulmers Pear, Stella Cidre, Magners & Rekorderlig
Wines
Our customers enjoy approximately 5300 bottles a year of which 94% is sold by the glass with up to 12 wines on offer by the glass all kept fresh by a machine we have called a "Vin du Verre" which vacuum seals bottles after opening keeping the wine fresh.
Spirits
We offer leading brands including Gordons Gin, Smirnoff Vodka, Bacardi, Famous Grouse, Bells, Southern Comfort & Jack Daniels.
Malt whiskies currently on offer include Glenlivet, Glenmorangie,Jura & The Macallen.